Wedding Catering Brisbane
Farm Fresh Ingredients
Small Town service
Served Until Everyone is Full
Farm Fresh Ingredients
Small Town Service
Served Until Everyone is Full
*Vegan, Vegetarian & Gluten-Free Options are included
Servicing the Greater Brisbane Area
Farmer Brown's Wedding Catering
Isn't there enough to think about for your wedding day? Whether to invite that cousin you haven't seen since you were 6 or whether you can put Aunt Tracey and Uncle Bill at the same table without an incident?
Let us ease the stress and take care of all the Wedding catering needs for you. We endeavour to make the whole process as simple and elegant as possible.
Nowadays, mobile wedding catering is becoming very popular. Being completely mobile and offering a premium, yet affordable product – there's little wonder why.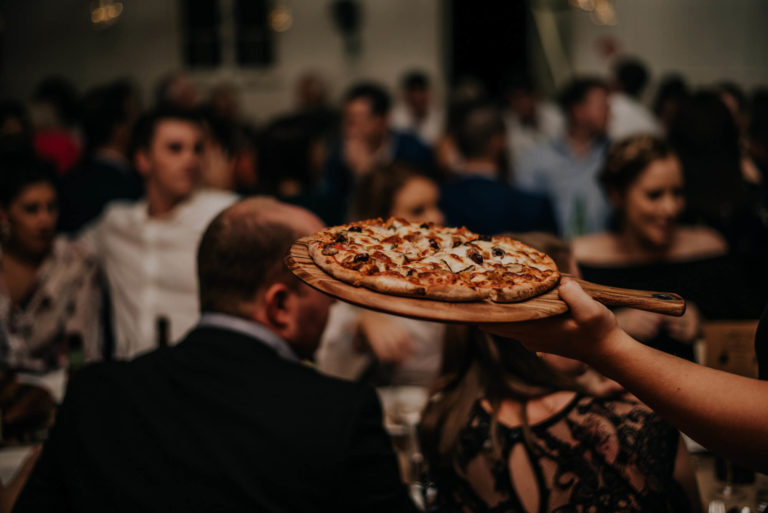 Professional Catering Services With The Perfect Fit For Your Wedding
Whether you want a relaxed festive celebration or a purely elegant affair, we have the expertise of doing it all for you. We set up prior to the guest's arrival and quietly slip away once everyone is full as a High School hat rack!
A Wedding Menu That Caters To Every Guest
We have our staff bring the pizzas around on our wooden paddles to all of the guests on all our catering packages. This takes away all the stress of having your wedding guests miss out on food and enables us to make food that everyone loves. It also gives us an opportunity to find the guests with special dietary requirements and make sure they are also catered for! Whether they are Gluten intolerant, Coeliac, Vegan, Vegetarian or just don't like a particular ingredient – we have them covered!
Catering For Weddings Across Brisbane
We cater for weddings all over Brisbane and whether you have 40 or 400 guests – we have the skills, staff and expertise to manage anything thrown our way! We are dynamic and considered as one of the premium wood-fired pizza catering services in Brisbane. Our wedding catering services are deemed as truly exceptional and worth remembering. We do this by providing the highest quality product with service to match!
Why Choose Us?
We charge per head & stay until everyone is happy.
Our caterers bring the pizza around to all the guests on our wooden paddles. This way no guests miss out and everyone is looked after.
We use locally sourced, fresh, high quality ingredients. We don't substitute for cheap alternatives.
You can come try our catering menu on a Friday night at Keperra Picnic Ground in Brisbane from 4pm – 8pm.
We have 4 different set-ups, so we have a set-up that fits.
All 9 gourmet main pizza options are included in all wedding catering packages.
All We Need To Know Is:
Final numbers & dietary requirements (2 weeks out)
The address of the function & where you want us to set-up
A flat area to set-up on & access to power (we bring our own leads)
Confirmation of what time you want serving to start (we will arrive 1.5 hrs before)
Which package you want to go with (Mains only, Entrée & Mains or Entrée, Mains and Desserts)
We cater to all with Gluten Free, Vegan and Vegetarian options so no one misses out at no extra charge.
Warwick Brown
Farmer Brown's Pizzas
Brisbane Wedding Catering
Experience Farmer Brown's Pizzas
So how it works is nice and easy. We usually arrive about 1-1.5 hrs before serving to just set-up and get the oven temperature up to speed. We cater to everyone including a range of Gluten free, Vegetarian and Vegan pizza options at no extra charge. Once we start we just keep cooking pizzas until everyone is full, which is typically around the 1.5 – 2 hr mark. We provide napkins and paper plates too and just need access to power.
So we find as we bring the pizzas around, we make sure everyone gets food and we typically leave a few pizzas to have later in the night too. We do this because we know the party doesn't stop once we go and want to make sure everyone has plenty of pizza! 🍕🎉
All of our options include staff taking the pizzas around to guests on our wooden pizza paddles. This way the guests continue to enjoy the party without having to find where the food is! Works really well and gives us an idea of what pizzas people are enjoying and can make more of those particular ones.
We can easily cater for all dietary requirements including people that are Vegan, Vegetarian, Coeliac and Gluten Intolerant etc! We just need to know final numbers and dietary requirements about 2 weeks before hand!
All of our 10 different gourmet pizzas are included in all the packages and as I said Gluten free, Vegan and Vegetarian pizzas don't cost any extra.
We do have a 40 adult minimum.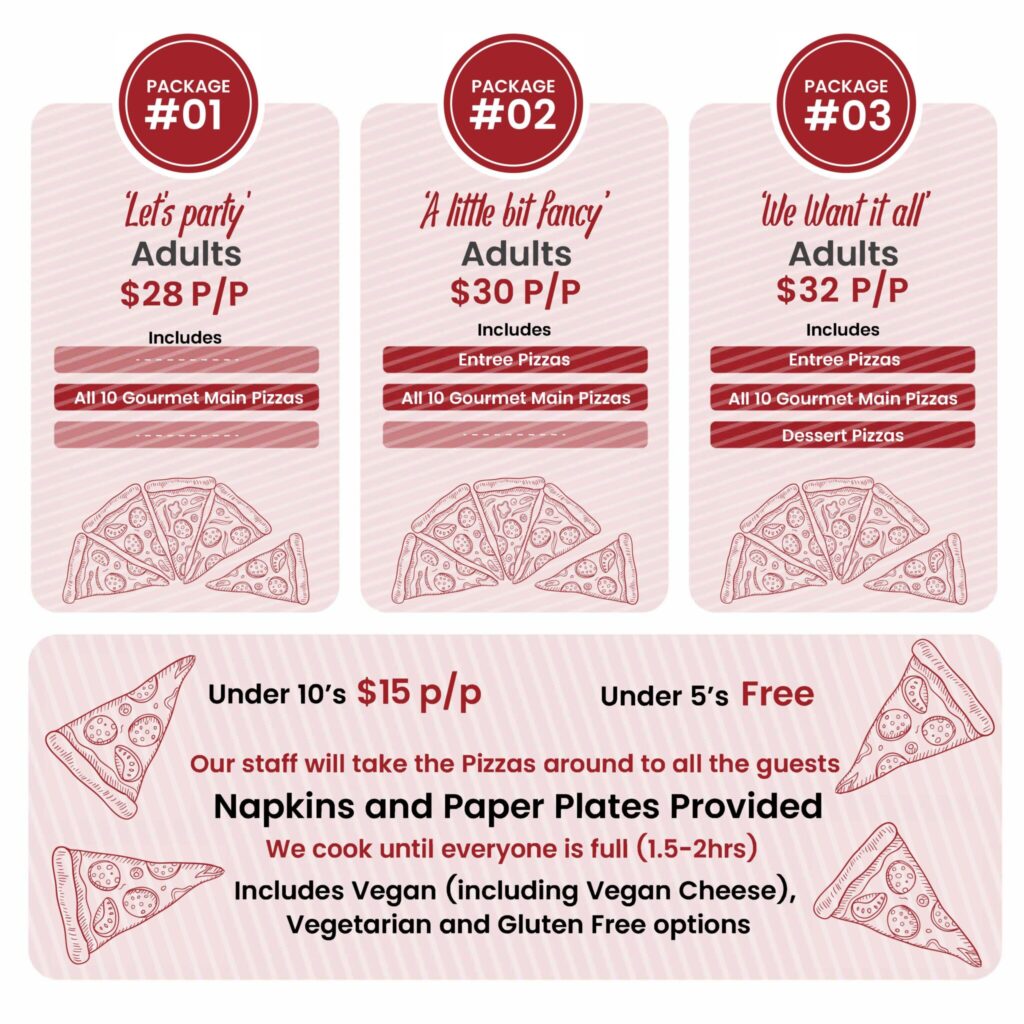 Book Today
Book today to secure catering for your Brisbane wedding.
See Our Menu
Check out our range of mouth-watering pizza mains and desserts.
Had a backyard wedding and was the best choice I made hiring Farmer Brown's Pizzas to cater the evening. They came in, set up, served my guests and packed up and disappeared when everyone was full of food. My guests continuously came up to tell me how delicious the pizzas were and that it was such a great idea! Can't thank you enough for your service and for making myself and guests happy. Thanks guys!
We had Warrick and the boys cater for our backyard surprise wedding last week and we couldn't have been happier! The pizzas were the hit of the night! They take care of everything, dishing out entree pizzas, then any flavoured pizzas we wanted and then turning the scene into a frenzy with their delicious dessert pizzas! He catered for any food allergies guests had and also offering gluten free options as well as garden and Greek salads. Couldn't recommend these guys enough and we'll be using them again for sure! Cheers boys!