Farm Fresh Ingredients
Small Town service
Served Until Everyone is Full
Farm Fresh Ingredients
Small Town Service
Served Until Everyone is Full
Well where do we start…
Our mission is to make functions a time that everyone, including the host can enjoy. Where they don't have to be manning a BBQ or cooking in the kitchen. It's a time to sit back and relax with friends and family, while we take care of all the catering needs. Here at Farmer Brown's Pizzas we are different, good different. We want the experience to be amazing and will bend over backwards to make it happen. So here are a few things that set us apart.
Firstly, you don't have to pick any pizzas 🤯 We include all 10 gourmet pizzas in all of our packages. We want all guests to have an abundant variety of Wood-Fired Pizzas and possibly even try some different flavour combinations that are unique to us. From the slow cooked Pulled Pork to our unique take on the Veggie Supreme, there is something for everyone.


All of our pizzas are hand rolled and par-baked during the week, ready for the end of week festivities. All of our toppings are straight from the local fruit shop and butcher. From the freshly cut Pineapple to the premium Leg Ham, we won't sacrifice quality for savings. We have had numerous opportunities to save money by buying cheaper alternatives, but high quality & fresh ingredients just simply taste better.



We also do-little things like take the pizzas around to the guests on our wooden paddles, instead of setting the pizzas up on tables. When we first started our mobile pizza catering business, we would leave the freshly cooked pizzas on a table and wait until they were all gone before placing down fresh pizzas. We found that people were too busy mingling and chatting with other guests, that they didn't even think to find where the food was. We would watch as the pizzas simply went cold sitting on the table. It was at that first party that my staff and I went and grabbed the pizzas and started taking them around to the guests. The reactions we got were so overwhelming, the pizzas were hot and nobody missed out, so we decided to include this service at every event. Whether we are catering a Wedding, Engagement party, Birthday celebration, Corporate event or a Karaoke night, this is just what we do.
Experience Farmer Brown's Pizzas
We are a mobile catering business so we come to you anywhere in Brisbane and with our 5 different trailers, we have one that works for everyone. We typically set-up in the driveway or out that back. If a car can get through, we can too 😊 We need roughly 5m x 5m to set-up, but are yet to do a function we can't accommodate.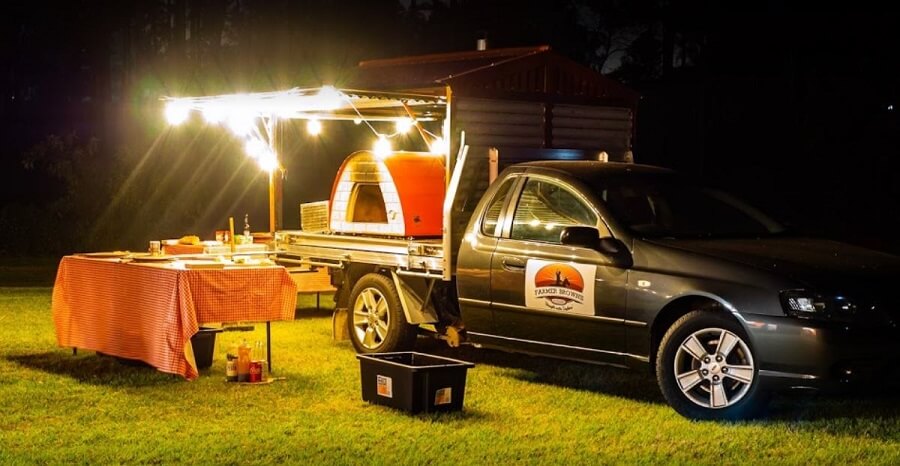 We want to make the experience fully inclusive and take pride in our ability to accommodate everyone at the party. Whether you have Vegan, Vegetarian, Coeliac or other dietary requirements on the day, we have everyone covered. I just happen to be Coeliac myself, so fully understand everything to do with that.
A common occurrence at most parties is guests not showing up at the last minute. We want to make sure that you get great value so as we have catered for everyone, all of the additional pizzas will be boxed up and left for you at the end of the night.
Our Wood-Fired Catering business is based on the North-side of Brisbane, but we travel all over the Greater Brisbane area. If you wanted any other information, just send us an e-mail or give us a call.
See Our Pizza Menu
Check out our range of mouth-watering mains and dessert pizzas.
Reserve a Booking
Get in touch today to secure a booking for your next event.
How It Works
So how it works is nice and easy. We usually arrive about 1-1.5 hrs before serving to just set-up and get the oven temperature up to speed. We just keep cooking until everyone is full, which is typically around the 2 hr mark. We provide napkins and paper plates too. All we need is access to power.
Our Catering Packages
Our 1st catering package includes Entree, All Gourmet Main & Dessert pizzas. Served until everyone is completely satisfied!
Our 2nd package is Entree & all main pizzas! Served until everyone is rolling around as they are too full to walk.
Our 3rd package is all the gourmet main pizzas only. Served until you can't fit in anymore.
For a tailored catering price, just send through an enquiry and we will get back to you as soon as possible. Just a note, we do have a 40 adult minimum.
Had a backyard wedding and was the best choice I made hiring Farmer Brown's Pizzas to cater the evening. They came in, set up, served my guests and packed up and disappeared when everyone was full of food. My guests continuously came up to tell me how delicious the pizzas were and that it was such a great idea! Can't thank you enough for your service and for making myself and guests happy. Thanks guys!
We had Warrick and the boys cater for our backyard surprise wedding last week and we couldn't have been happier! The pizzas were the hit of the night! They take care of everything, dishing out entree pizzas, then any flavoured pizzas we wanted and then turning the scene into a frenzy with their delicious dessert pizzas! He catered for any food allergies guests had and also offering gluten free options as well as garden and Greek salads. Couldn't recommend these guys enough and we'll be using them again for sure! Cheers boys!