Work Function Catering Brisbane
Farm Fresh Ingredients
Small Town Service
Served Until Everyone is Full
Farm Fresh Ingredients
Small Town Service
Served Until Everyone is Full
*Vegan, Vegetarian & Gluten-Free Options are included
Servicing the Greater Brisbane Area
Are you looking for something a bit different for your next work function? Are you a bit sick of that same old sausage sizzle, but want something that still fits within the budget? Have you got a product you're about to launch into the world and need someone to cater the event? Then why not give our Wood Fired Pizza Catering a go? We make it super easy and nothing beats fresh dough!
We have our staff bring the pizzas around on our wooden pizza paddles to all of the guests on all our packages. This takes away all the stress of guests missing out on food and enables us to make pizzas that everyone loves. It also gives us an opportunity to find the guests with special dietary requirements and make sure they are also catered for!  Whether they are Gluten intolerant, Coeliac, Vegan, Vegetarian or just don't like a particular ingredient – we have them covered!
We cater to all with Gluten Free, Vegan and Vegetarian Pizza options so no one misses out at no extra charge.
Experience Farmer Brown's Pizzas
So how it works is nice and easy. We usually arrive about 1-1.5 hrs before serving to just set-up and get the oven temperature up to speed. We cater to everyone including a range of Gluten free, Vegetarian and Vegan pizza options at no extra charge. Once we start we just keep cooking pizzas until everyone is full, which is typically around the 1.5 – 2 hr mark. We provide napkins and paper plates too and just need access to power.
So we find as we bring the pizzas around, we make sure everyone gets food and we typically leave a few pizzas to have later in the night too. We do this because we know the party doesn't stop once we go and want to make sure everyone has plenty of pizza! 🍕🎉
All of our options include staff taking the pizzas around to guests on our wooden pizza paddles. This way the guests continue to enjoy the party without having to find where the food is! Works really well and gives us an idea of what pizzas people are enjoying and can make more of those particular ones.
We can easily cater for all dietary requirements including people that are Vegan, Vegetarian, Coeliac and Gluten Intolerant etc! We just need to know final numbers and dietary requirements about 2 weeks before hand!
All of our 10 different gourmet pizzas are included in all the packages and as I said Gluten free, Vegan and Vegetarian pizzas don't cost any extra.
We do have a 40 adult minimum.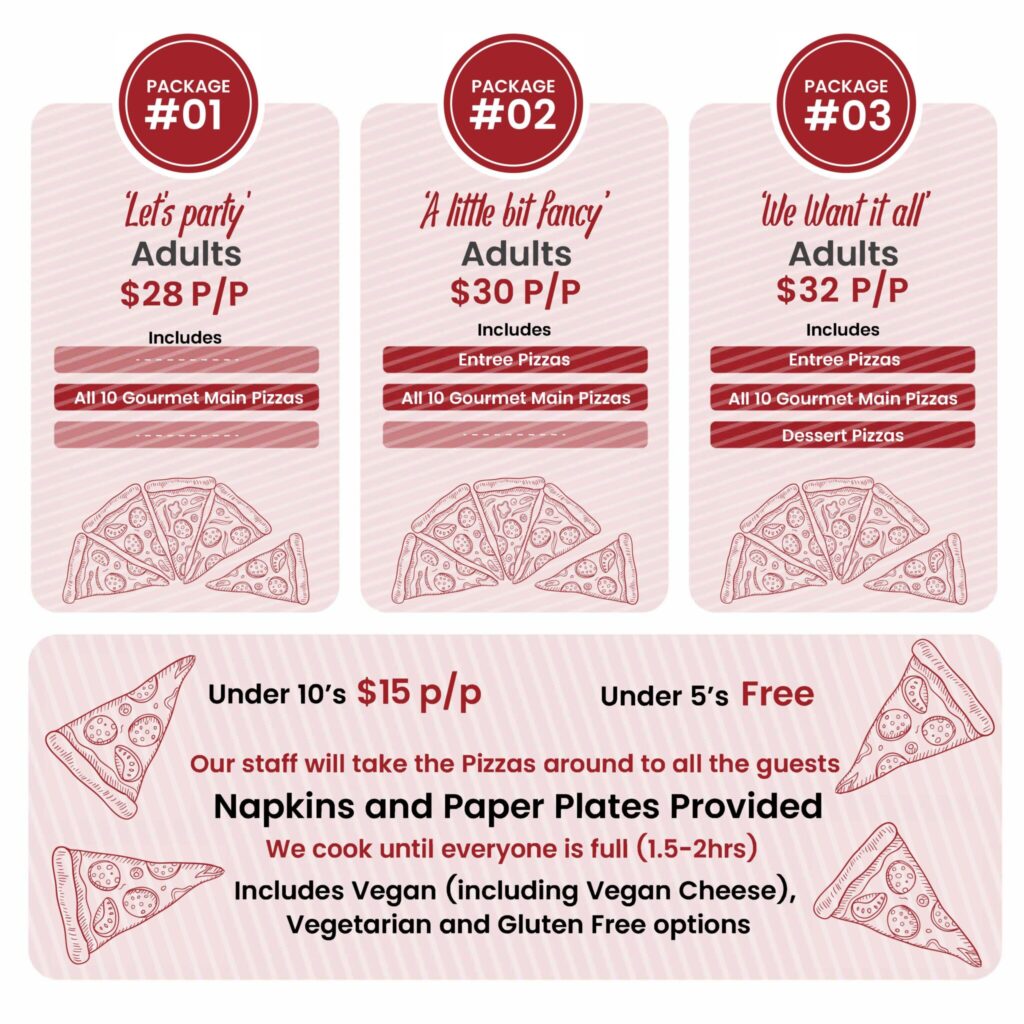 Book Today
Get in touch today to secure a booking for your next event.​
See Our Pizza Menu
Check out our range of mouth-watering pizza mains and dessert pizzas.
Had a backyard wedding and was the best choice I made hiring Farmer Brown's Pizzas to cater the evening. They came in, set up, served my guests and packed up and disappeared when everyone was full of food. My guests continuously came up to tell me how delicious the pizzas were and that it was such a great idea! Can't thank you enough for your service and for making myself and guests happy. Thanks guys!
Best pizza in a long time. Better than the cardboard pizzas from the chain stores
A big thanks to Farmer Browns Pizzas for catering at our daughters 1st Birthday Party. The pizzas were amazing and everyone loved them. We would highly recommend them and we look forward to have you cater future events for us.
We had Warrick and the boys cater for our backyard surprise wedding last week and we couldn't have been happier! The pizzas were the hit of the night! They take care of everything, dishing out entree pizzas, then any flavoured pizzas we wanted and then turning the scene into a frenzy with their delicious dessert pizzas! He catered for any food allergies guests had and also offering gluten free options as well as garden and Greek salads. Couldn't recommend these guys enough and we'll be using them again for sure! Cheers boys!
Thank you for catering Keith's 40th. The pizzas were an absolute hit with everyone! I've never seen a crowd of people unanimously happy with the food at an event!! The smashed pumpkin pizza was being spoken about all day today and I think the kids ate their weight in Nutella pizza! Thanks again Warwick! You made it a fantastic hassle free night!!
We enjoyed some yummy pizzas from you at Wahminda Park Tennis courts tonight, so glad we saw you on our way out so when there were no pizzas paves open in Samford we knew were to go. Thanks for dinner!
Have been driving past and wondering what was there. So drove in with the father-in-law. Best choice I've made this year pizza was spot on and exceeded all expectations. Keep up the work guys, the atmosphere was awesome and we could tell you guys love your job. Cant wait to see how far your business goes!!!
Thanks for the great Pizza! Perfect spot on the corner of Samford road and Upper Kedron road. Will be back for more.
Quick polite & best of all yummy. Will be having Farmer Brown's pizza again & will be telling all my friends.
The 'lover of meat' pizza was absolutely melt in your mouth delicious and it went down well with the 'Nutella and marshmallow' pizza for dessert. The staff are warm and friendly, Only criticism is that there isn't enough! The deliciousness was gone too quick. The best wood fire pizza in Brisbane definitely recommend and would come back.
Beautiful & tasty pizzas. Great menu & so quick! Thank you.
Had the pleasure of trying these pizzas for the first time on Wednesday night! Delicious pizzas and the customer service was spot on, no complaints. Perfect place for an impromptu picnic - will be returning.
Just had pulled pork pizza and it was fantastic. Will definitely be back for more.