7 Mobile Catering Styles to Try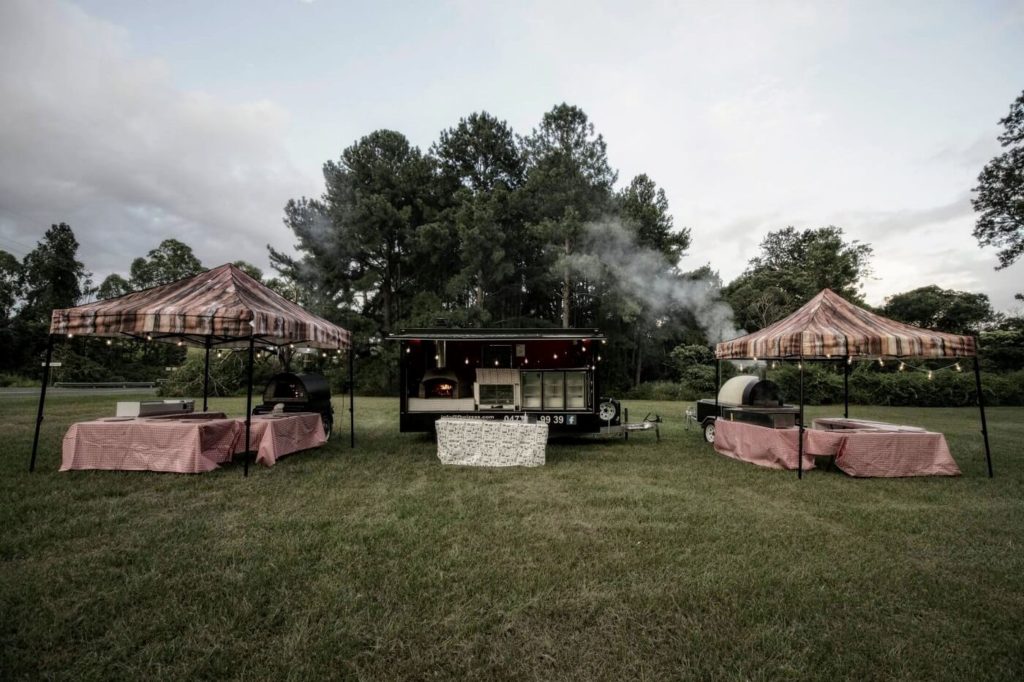 Because a party is not a party without food, we thought we'd give you some inspiration and a few reasons to let food professionals take care of feeding your guests.
We see it happen every day, hosts having as much fun as their guests because everything is taken care of by professional cooks; catering services makes having a party so much more fun and stress free.
Take a look at our suggestions and start planning your next event! 
1. Pizza, because who doesn't love pizza!
Let's start with the best, though we're totally biased on this one!
Pizzas, especially when made with passion, with local, fresh ingredients, in a wood-fired oven, they're the heart and soul of any party.
From a classic margherita to pulled pork, pizza is a tonne of fun and undoubtedly makes everyone smile. There's something about grabbing a slice of freshly baked pizza that just can't be beaten. 
Make sure to try out our mobile pizza catering for your next get-together with friends and family!
2. Burgers, Buns of happiness.
Close seconds, burgers are canvases for creativity. A patty in a bun is just the beginning, it's all the possibilities of flavour and texture, from ubiquitous cheese to hearty stuff like sautéed mushrooms to grilled prawns. The sky's the limit!
Burgers, like pizza, take people to a happy place, they break the ice and loosen people up.
A burger catering service will keep things casual and the queues long.
3. Ice Cream, for hot summer days.
Even the hottest summer days won't stop people from lining up for a scoop or two of creamy ice cream. 
Like the options above, ice cream catering services can work with a myriad of flavours, from classic vanilla and chocolate to more inventive options like mint chocolate chip and butter pecan, so get involved and offer your guests ice cream like they've never had before.
Ice cream screams for love, and it gets it, because who can resist a sweet treat to cool things down?
4. Mobile Bar, just because.
Make getting a round of drinks part of your party experience. Have a couple of cool guys shaking and stirring a few hip concoctions for your guests.
A cold beer? You got it, a dry martini? Why not!
Let the pros take over, quench your guests' thirst and get the party started. 
5. Mobile BBQ, light up the coal!
Once you sense the smoke and the enticing aromas of grilled meat in the air, you know things will be alright.
Grilling meat is a national hobby, and here in Brisbane a good BBQ feed is never too far away. 
Let a grill master and his crew take care of keeping the fire going and guarantee a never-ending parade of grilled goodies. You just sit back and enjoy your party.
6. Fish and Chips, classics never die.
Why not bring to your reunion an Aussie classic to remember your guests that simple is sometimes better? 
A quality-oriented fish and chips catering business can make of your party the event of the year. Perfectly golden fish and chips, crunchy but firm, beautifully seasoned — everyone will want doubles!
7. Desserts to satisfy your sweet tooth.
Bakers and pastry chefs can bring a sweet ending to your party with a lovely variety of baked treats and sweets, from chocolates to donuts, from puff pastry, delicate treats to cake. 
What a nice way to end a wedding, party, or family reunion. Talking about ending with a high note!
Hopefully these suggestions have given you some great ideas for you next event and will help mean less hosting and more fun!