10 Reasons why we should cater your next Function!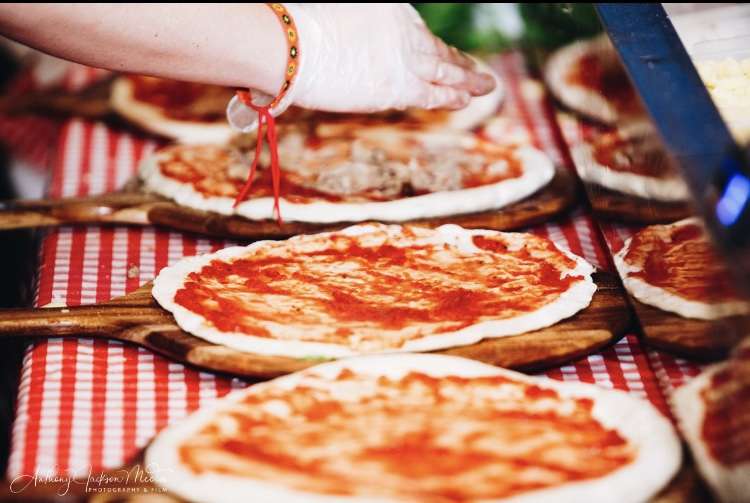 We thought we might put together a list of reasons why we want to be at your next function!
Our Menu. We have two entrée pizzas, nine gourmet main pizzas, and two dessert pizzas. We've got the classics like margherita, lover of meat, ham & pineapple, and pepperoni but also the more decadent, like Texas pig, Mr. chicken, smashed pumpkin, and nutella & banana. See Our Menu.
No one gets left out. We cater for all intolerances, allergies and dietary needs. We have vegetarian and vegan options and we offer gluten free bases that actually taste delicious.
Our service. Our wood fired ovens can fit up to four pizzas at once so our serving time is fast and efficient. At no extra cost we also serve the pizzas ourselves, so the second the pizzas are out of the oven, we'll walk them around to all the guests, making sure no one gets forgotten.
There's always room for more. We charge per head instead of per hour to ensure there's no cutoff on people's appetites. We won't pack up until everyone's well and truly full and we'll even leave you extra pizzas for later.
Our prices. We charge adults a maximum of $25/head for all our functions, kids under 12 are $13/head, and under 5's are free. We understand how expensive catering options can be and try to be as reasonable as possible without compromising on quality.
We're mobile. We currently have three trailers in circulation and are in the middle of getting our fourth. All trailers vary in size, so whether your event is big or small, we're fully equipped to cater for it.
Our quality. Though surprising, we really like pizza and we're constantly taste testing to find ways to make it even better (it's a hard job). We also use locally sourced and homegrown ingredients and focus on being as fresh as possible.
We're independent. All we need for our set up is one power point and we'll do the rest ourselves. We provide napkins, plates, and wooden paddles for your guests and we also won't leave a mess behind.
Our style. We like country boots, checkered shirts and Luke Bryan. We're easy going, friendly and reliable. We don't like stress, and will do everything in our power to minimize that for you.